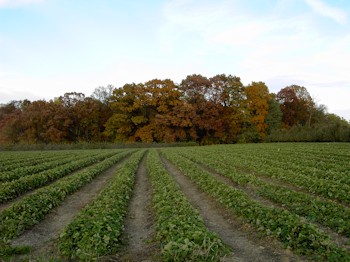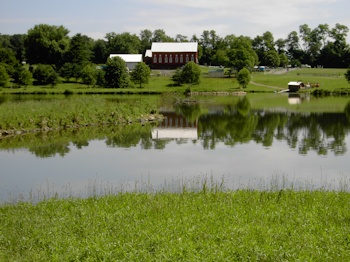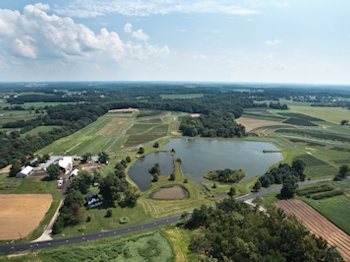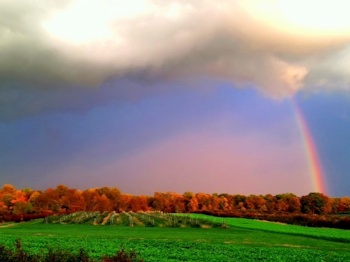 Our farm is open during the growing season. The growing season begins with the ripening of the strawberry crop (opening day was May 20, 2017). The growing season ends with the apple harvest. Our last day is the first Sunday in November. Click on the tabs above for hours and directions. Click on Today's Harvest tab above for information about pick your own crops.
It is best to call just before getting in the car to drive here as sometimes all of the ripe fruit gets picked and the field has to be closed for a few days to allow the green fruit time to ripen. This website, on the Today's Harvest page, and the telephone recordings, 410-442-2605 and 301-854-6110, are updated every day and throughout the day to make sure you get the most up-to-date picking information.
We strive to grow top quality fruits and vegetables for you to pick your own or purchase in our farm market. We consider the soil and the plant material to be our most valuable resources. To keep the farm healthy and safe we use Integrated Pest Management and Best Management Practices.
We are located in central Maryland, in western Howard County.  The farm is 3 miles south of 1-70 (Exit 73) on Rt. 94, Woodbine Road. This is half way between Baltimore and Frederick, just south of the little town of Lisbon, MD. The address is 2415 Woodbine Rd, Woodbine, MD 21797.
In March 2013, we purchased another farm, one mile north of Larriland Farm, on Route 94, Woodbine Road. This new farm, The Moore Farm, will grow pumpkins for picking on weekends in October. Adding 35 acres of crop ground allows us to do a better job with crop rotation for pumpkins. Pumpkins do best with a 5 year crop rotation for disease control.
Weather conditions and customer demand determine the supply of our fruits and vegetables. Sometimes the demand may deplete the supply of certain fruits and vegetables during a particular ripening season.
Please call or check our website the day you are coming, just before leaving your home, to find out what's available that day and to avoid disappointment. Call 410-442-2605 or 301-854-6110. The telephone recordings and this website are up-dated throughout the day, and everyday, as needed.
410-442-2605 or 301-854-6110
Sign up for our e-newsletter (click here). This is a harvest update that goes out about once a week during the growing season: late May – early November.
Open during the growing season, late May through the first Sunday in November. The first crop to ripen in late May is pick your own strawberries. Please check Today's Harvest for information on current picking conditions.
Please leave your dogs at home.
We provide picking containers for adults. We ask that children share with their parents or bring their own container. Cash, checks, and credit cards  accepted. Visa, MasterCard, and Discover. ATM available in the Red Barn. Please pay at each field where you pick.